Read from October 26 to 30, 2015 — I own a copy
Synopsis: Benjamin Grimm knows the theater is much like real life. In 1876 Philadelphia, people play their parts, hiding behind the illusion of their lives, and never revealing their secrets.
When he reunites with his childhood friend Eleanor Banneker, he is delighted. His delight turns to dismay when he discovers she has been under a spell for the past 7 years, being forced to live as a servant in her own home, and he realizes how sinister some secrets can be.
She asks for his help, and he can't refuse. Even if he doesn't believe in 'real' magic, he can't abandon her.
Ellie has spent the long years since her mother's death under the watchful and unforgiving eye of her stepmother. Bewitched and hidden in plain sight, it seems no one can help Ellie escape. Not even her own father, who is under a spell of his own. When she sees Ben one evening, it seems he is immune to the magic that binds her, and her hope is rekindled along with her friendship.
But time is running short. If they do not find a way to break the spell before midnight on New Year's Eve, then both Ellie and her father will be bound forever.
Bookish Things: 289 pages. The cover is exquisite!
Where to buy: Amazon on kindle for $5.27 or paperback for $16.99
My Review: 
Bookshelves:
spring-2015
,
indie-review-copies
,
indie-author
,
4-star-review
,
a-lil-sexy
,
fantasy-historical-fiction
,
insta-love
,
romance-ish
, 
smirk-worthy
,
steampunk
,
ya
I'll admit, that when I first read this was a Cinderella retelling I was thinking along the lines of this:
But then, when I looked at the character names (Benjamin Grimm) I thought that this could be a retelling melding several fairy tales together.
Alas, I was wrong.
What was involved in the retelling was a steampunk-esque version that mixed stories like The Illusionist with its orange tree trick, and other magician movies like The prestige with the birdcage tricks…
The Evil Queen from Snow White…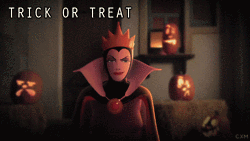 And the original, well known Cinderella we know. There were aspects that worked really well with the steampunk feel, the coach was one of them. I had visions of something like the below, but a little less pumpkin-ish.
There were parts that were steeped in history, and in the end of the book there's a little spiel that goes over exactly which parts of the history are true. This added a nice touch of realism to an otherwise completely fantastical story.
While the world building and ideas were quite strong, sometimes leaning on the traditional, and at others on the added elements, themes and genres, the characters were left a little lacking.
I started to see a real character in Ben and Harry, Ben's younger brother, but these were left behind to further the Cinderella aspects of the story. The balls and dresses and dancing took over and the characterisation that had formed around Ben and Harry was lost.
I will be honest, I didn't like Ellie much after the first 10% of the book. I really didn't like her at all once she got to be an adult. I didn't like Olivia, but then you're not meant to. The stepsister, Rebecca, was one of the more interesting characters. I quite liked the way her character arc went.
Anyway, overall the story was pretty good, the characters were ok and the twisted story elements from other stories was mostly well done.
**Note: I was provided an electronic copy of this book in exchange for an honest review**